Optimized LoRa Sensor Network Power Solutions Can Lower IoT Opex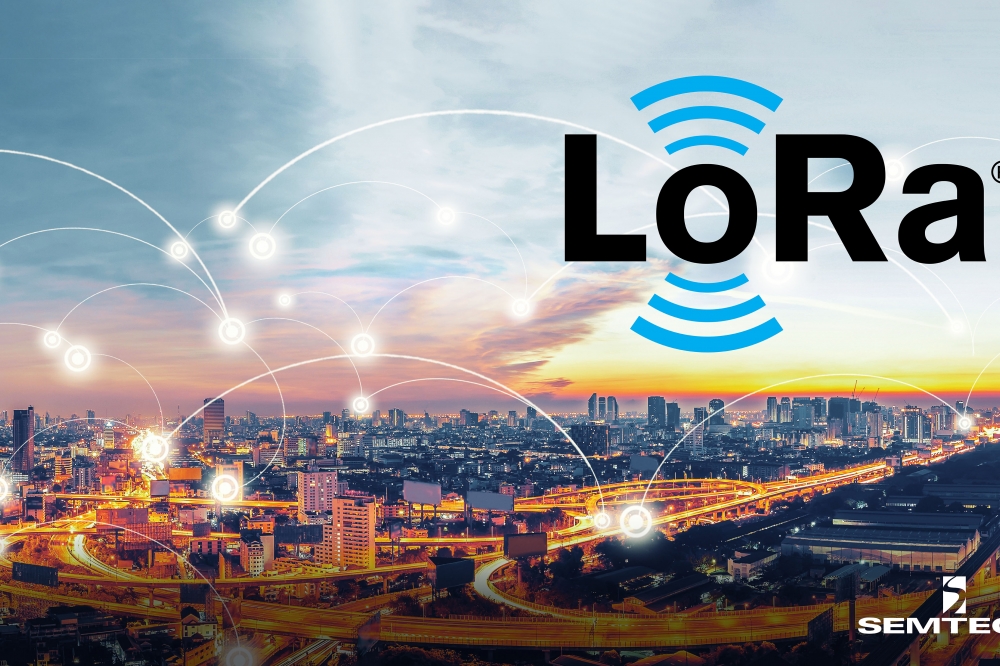 IoT wireless sensor node network operators need thoughtfully developed power schemes to minimize operational expenditures (Opex). While various types of energy harvesting can minimize battery field service requirements, Semtech advises careful planning at the development stage to maximize performance while minimizing power and related Opex costs.
By Marc Pegulu, Semtech
Powering wireless sensor nodes from batteries or energy harvesting is a key requirement for many applications in the Internet of Things (IoT). The ability to place sensors at the precise spot they are required provides access to data that helps make industrial equipment more efficient, water monitoring more effective and supply chains more efficient. No matter the application, power efficiency is always a key consideration.
Developing a wireless sensor node that can run on battery power or by harvesting the energy from the environment is not a trivial undertaking. Some wireless protocols have peak power requirements that can leave a sensor node depleted, and many of these protocols require higher power to reach an adequate range. This ends up requiring regular battery changes; in networks of hundreds or thousands of sensors spread across remote areas, battery servicing can prove a costly proposition.
Using energy harvesting from local sources such as solar cells can help to recharge network batteries, lengthening the replacement cycle. But this requires more complex power management IC (PMIC) devices to handle the variable power from these sources. This can still present a challenge to deliver enough power for wireless networks that use the Internet Protocol (IP).
LoRa® devices were specifically developed for low power applications with low data rates in the IoT. The technology uses a spread-spectrum modulation technique for long-range transmission that can be many kilometres for a line-of-sight connection using the sub-Gigahertz bands of 868MHz in Europe and 915MHz in the US. The sub-Gigahertz bands provide longer range, but support lower bandwidth—alternately, LoRa supports data rates up to 50Kbit/s with battery life that can be as long as 10 years.
LoRa devices have recently been enhanced through the use of more robust technology that can be used to extend the range of sensor nodes and battery life; sensors can even connect directly to satellites orbiting the Earth.
The Long Range - Frequency Hopping Spread Spectrum (LR-FHSS) protocol significantly increases network capacity and robustness to interference, which helps to reduce power consumption for radio transmissions and increase battery life. It can also be used to reach areas that are typically hard for radio networks to access, such as basements where smart meters need a connection.
The LR-FHSS protocol has been enabled as a firmware update in the current wireless transceiver chips from Semtech used in sensor nodes and in the terrestrial gateways to which nodes connect, delivering an immediate boost to the battery life of devices that are already installed.
LR-FHSS also enables battery-powered wireless sensor nodes to efficiently connect to satellites in low earth orbit (LEO). These satellites carry a LoRa payload that can connect to the sensor nodes on the ground in the regulated 2GHz band and relay data back to a ground station. This allows new deployment opportunities across the globe including the ability to place sensor nodes in remote areas.
LoRa has also been extended to the 2.4GHz band that is unregulated around the world and used by protocols such as Wi-Fi and Bluetooth. The higher reliability and ruggedness of the original LoRa technology and LR-FHSS allows low power IoT connections in this band; usage examples include smart building applications with battery-backed or even battery-free sensors that harvest energy from light or radio frequency (RF). Achieving this level of utility can be a real challenge with other protocols.
LoRa was designed from the ground up for low power operation, starting in the sub-Gigahertz bands but taking those advantages into 2.4GHz and S-band frequencies as well.
Another power conserving strategy involves Chirp Spread Spectrum (CSS) modulation, which spreads narrowband signals across a wider channel, allowing greater interference resilience and low signal-to-noise ratios. This effectively reduces the power requirement. It also works with the network architecture to extend lower power functionality, meaning a typical battery life of 15 years in the sub-Gigahertz unlicensed bands is readily achievable.
Part of the power efficiency seen in LoRa wireless networks also comes from limits on duty cycles in some regions. In Europe for example the duty cycle is limited to 1 percent, which translates to a device having a maximum of 36 seconds every hour for transmission. Duty cycle limits help avoid the risk of frequency bands becoming overwhelmed and ensures that the signal can operate without too much interference. Reducing interference helps reduce power consumption since the transceiver does not need to provide more power to overcome it.
Another significant advantage of the LR-FHSS protocol comes in the fact that it supports moving to the S-band for satellite links and the 2.4GHz unlicensed band with more power efficiency than other long range IoT technologies such as LTE-M, NB-IoT as well as cellular bands in 2G, 3G, 4G and now 5G networks. It is also more power efficient than short range technologies in the 2.4GHz unlicensed band such as Wi-Fi and Bluetooth.
Utilizing LTE 4G and 5G for sensor data does have its place. These bands are used for long range, high bandwidth, low latency links with high levels of security. But such use necessitates higher power consumption as they are essentially mobile phone modems with the power requirements and costs associated with mobile networks.
GSM 2G and 3G provide lower cost and lower energy consumption than LTE, so these bands are options for simple devices requiring a battery life of a few years. However, these networks are being shut down around the world to free up spectrum; they are therefore not a long-term solution for today's designs.
As the 'M' in LTE-M suggests, the standard was designed for machine-to-machine communications, and as such it was created as a lower power version of LTE. But the technology has been optimised further for lower power in narrow band (NB-IoT), which operates within licensed spectrum; it is comparable to LoRa's power consumption, but since it utilizes cellular spectrum there is greater cost associated with its use.
Like LTE-M, NB-IoT uses Frequency Division Multiple Access (FDMA) in the uplink, Orthogonal FDMA (OFDMA) in the downlink, and Quadrature Phase Shift Keying (QPSK) modulation. This is suited to IoT applications that require more frequent communications and low energy; it benefits high penetration use cases such as underground sensors. It has a bandwidth of 180kHz, similar to the 125kHz of LoRa with a similar data rate. Despite these advantages, it is inherently more complex than LoRa, leading to a battery life of up to 10 years.
In the 2.4GHz band, there is also Wi-Fi, Bluetooth and mesh networks such as Zigbee (now called Matter). Wi-Fi tends to have a battery life of a few days, but supports multi-megabit multimedia, while Bluetooth can last for months with data in the megabit range while Zigbee (Matter) battery life can be a couple of years with lower bit rates in the kilohertz range. None compete well with LoRa's combination of power efficiency, range and overall utility.
The choice of protocol for an IoT node has a direct impact on power consumption and battery life. Using LoRa or LR-FHSS provides a significant advantage in the lifetime of battery-backed and energy harvesting IoT node designs, reducing the cost of roll out and delivering data from nodes all around the world.
Semtech, the Semtech logo and LoRa are registered trademarks or service marks of Semtech Corporation or its affiliates.
SSI International to return to Brussels – bigger and better than ever!

The leading global integrated photonics conference and exhibition will once again bring together key players from across the value chain for two-days of strategic technical sessions, dynamic talks and unrivalled networking opportunities.

Join us face-to-face on 28th – 29th June 2022
*90% of exhibition space has gone - book your booth before it's too late!