Mouser Extends Motion and Positioning Range with New IMU, AHRS and Accelerometer Solutions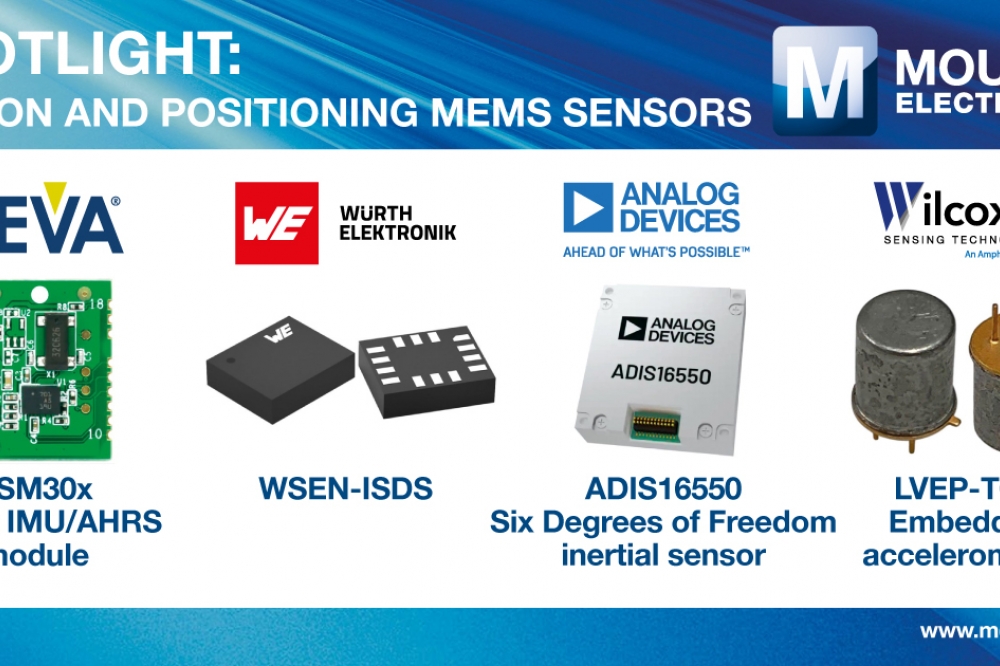 Mouser Electronics, Inc., the industry's New Product Introduction (NPI) distributor with the widest selection of semiconductors and electronic components™, expands its range of motion and positioning MEMS solutions.
The continued growth of technology, and its closer integration into everyday life, has heightened the importance of a device's ability to perceive its surroundings. Consumer applications, such as smartphone navigation and video game controllers, rely heavily on components like accelerometers and gyroscopes for locational and control information. In industrial settings, the significance of such sensors is also important. Gyroscopes, accelerometers, combined inertia measurement units (IMUs), and attitude and heading reference systems (AHRSs) all play a critical role in ensuring the effectiveness and safety of solutions ranging from automation and drones to navigation systems and platform stabilisation.
New motion and positioning product highlights available from Mouser include the following:
● The FSM30x 9-Axis IMU/AHRS module from CEVA incorporates a 3-axis accelerometer, 3-axis gyroscope, and 3-axis magnetometer, with a configurable sampling rate up to 1KHz. MotionEngineTM technology, provides raw, calibrated, and fused sensor orientation data with best-in-class stability and accuracy. The 32-bit ARM Cortex M0+ MCU runs CEVA's Hillcrest Labs business unit high-performance sensor hub software stack and allows for intelligent power management with managed sensor state and low-consumption for always-on applications. The modules feature advanced magnetic interference rejection algorithms, and both dynamic and factory calibration to ensure accurate measurement in a wide range of conditions. As a small (20mm x 25mm) turnkey solution featuring example driver code for Android, Linux, and embedded designs, the FSM30X helps for faster time-to-market and reduced project costs. Ideal applications include navigation, 3D audio, fitness and health monitoring, flight control systems, asset tracking, body motion capture, and AR/VR motion tracking.
● The WSEN-ISDS from Würth Elektronik is a versatile and simple to integrate 6-axis inertial measurement unit (IMU). It boasts pre-calibrated output and processed data that cater for application-specific functionality, including free-fall, wake-up, tap, activity, motion, tilt, and orientation detection. Within the small 2.5mm x 3.0mm x 0.86mm LGA package is a 3-axis acceleration sensor and 3-axis gyroscope sensor that feature selectable measuring ranges and data rates. The gyroscope allows data rates up to 937Hz, the accelerometer up to 1400Hz, and the output data rate extends to 6.6kHz, with a digital I2C and SPI interface and a FIFO buffer for storing output data. The measurement of linear and angular acceleration ranges from single-event registration to the continuous monitoring of high-frequency vibrations. Applications for the WSEN-ISDS include robotics, drones, automation, localisation and navigation systems, industrial tools and machines, antenna and platform stabilisation, and Industrial Internet of Things (IIoT) solutions.
● Available to order, the new ADIS16550 Six Degrees of Freedom inertial sensor from Analog Devices is a complete motion solution, incorporating a tri-axis gyroscope and accelerometer. Combining industry-leading MEMS technology with advanced signal conditioning, each inertial sensor within the ADIS16550 has optimised dynamic performance, and is factory-calibrated for sensitivity, bias, and alignment across a 40°C to +85°C temperature range. Compared to the complexity and investment of discrete designs, the ADIS16550 provides a simple and cost-effective method for integrating accurate, multi-axis sensing into industrial systems, with the tight orthogonal alignment simplifying inertial frame alignment in navigation systems. The ADIS16550 is packaged in 47mm × 44mm × 15mm aluminium housing and includes a serial peripheral interface (SPI) with a register structure which allows for simple data collection and configuration control. The triaxial, delta angle, and delta velocity outputs, and robust 1500g mechanical shock survivability make the ADIS16550 suitable for precision autonomous machines and robotics, as well as navigation, guidance, and dead reckoning for global positioning systems (GPS).
● Designed to provide high-accuracy single-axis vibration feedback and available to order from Mouser, the LVEP-TO5 embedded accelerometer from Amphenol Wilcoxon is a high-performance piezoelectric accelerometer with an ultra-low 180μW power consumption. The accelerometers feature a 17kHz resonance frequency, <10ms bias output voltage (BOV) settling time, and ±5% sensitivity tolerance, with an operational voltage as low as 3VDC and current draw of just 60μA. The sensors are housed in a standard TO-5 semiconductor packaging and have a hermetic seal that prevents the passage of air, oxygen, and other gases. With dimensions of 8.4mm x 9.6mm and a weight of just 3.2g, they can be easily integrated into wireless vibration sensors and other battery-powered applications. Examples of typical applications are high-volume integrated appliances, wireless vibration sensors, and other battery-powered implementations, including motor vibration sensors and structural health monitoring (SHM) solutions.